Dry Cleaning Pick-Up & Delivery ServiceKenmore, NY, Tonawanda, NY, Cheektowaga, NY, Williamsville, NY, Buffalo, NY, Amherst, NY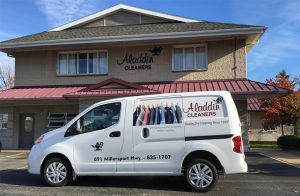 Aladdin Cleaners works hard to simplify your life.  We offer pick-up and delivery for your dry cleaning needs in Buffalo and Western New York.  Take advantage of our convenient service and save time and gas, reduce your list of errands, and know that your dry cleaning will be handled by conscientious and trained professionals.  With pick-up and delivery at home or at the office, Aladdin Cleaners ensures that you benefit from timely, reliable, and exceptional job management.  We bring high-quality work and trustworthy solutions right to your door.
Call today for pick-up and delivery service from Aladdin Cleaners!
Locally owned and operated, Aladdin Cleaners recognizes your busy lifestyle and answers with time-saving solutions.  Contact us at 716-835-1707, and we'd be happy to set up a schedule for dry cleaning pick-up and delivery service.  Our dedicated team is available throughout Buffalo and Western New York.  You don't even need to be home.  Aladdin Cleaners takes care of everything, handling your garments with care, attention to detail, and the exceptional standards that ensure satisfying results.  Quality Dry Cleaning Since 1939.
Dry Cleaning Pick-Up & Delivery Service